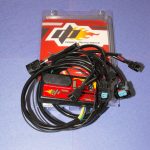 Dobeck Performance TFI  (A/F) controller with 'Carburetor Tuning Logic'
Custom tailor your a/f ratio without a computer and external cables, downloads or complicated tunes.  The TFI unit has the capability of adjusting the a/f ratio for more performance and decreased trailing throttle (decel 'pop').  You can even adjust the a/f ratio on the road side during a ride.  A small screwdriver is the only tool necessary.
The Dobeck TFI unit is plug-n-play.  It piggybacks on the injector harness and reconfigures the injector signals to your analog adjustments.  It's compatible with all naturally aspirated modifications including triple under bearclaw K&N filter sets and needs no Lambda (O2) sensor removal.  Built into the unit LED indicators monitor proper settings and alert you to any malfunctions.  The control box is compact and fits anywhere on your bike.  I have mine under the right side tin……
….I have one installed on my '06 Classic and I'm very pleased with the results.
…..Dobeck TFI Controllers are available for most late model fuel injected bikes.  Please e-mail me at sales@flipmeisters.com with your application and I'll quote you a price and delivery…..